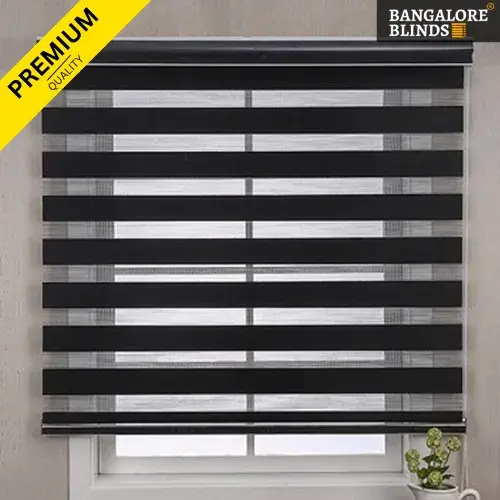 Zebra Blinds is a roll-up blind with a solid and sheer part to give you light even when it is fully rolled down. They have a huge advantage over standard roll-up blinds as they are easier to operate and have both functions of horizontal blinds and roll-up blinds.
They are popular for modern & stylish features that enhance the interior. 
Description
Materials
Order procedure
Description
Zebra Blinds Bangalore is very popular because of the modern and stylish features that help enhance the interior. Zebra Blinds are one of the most unique-looking creatures in the wild kingdom. Its distinctive stripes make it a standout on the plains of its native habitat. The sheer, light-filtering shades that share its name are a standout, too.
Bangalore Blinds offers Zebra blinds that are exclusively distributed by gently filtering natural light while still providing you privacy. Their twin cell material delivers excellent insulation and privacy, saving you energy costs while keeping your room cool and dry.
Materials
Order procedure