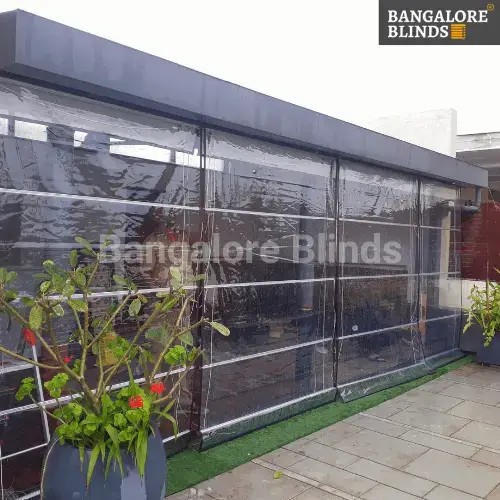 Monsoon blinds are made with 100% clear PVC material with a modern look mainly designed for rain protection.
Monsoon blinds are made from special scratch-resistant PVC and Acrylic fabrics. Specially created for protection from Heavy rain & Winds without obstructing visibility, Monsoon Blinds give a clear outside view.
Description
Materials
Order procedure
Description
Our monsoon blinds in Bangalore are made using high-quality PVC material (0.63mm). These custom-fit blinds withstand Indian tropical weather effects such as rain, wind, harsh glare, or heat.
Monsoon Blinds are designed to withstand Rains and winds, without blocking the outside view. These blinds are manually operated and are customized to fit perfectly. Monsoon Blinds allow neat folding of the blinds and easy replacement. Perfect for your Garden Home, Villa, Porch, Veranda, Balconies, Restaurants and Resorts
Materials
Order procedure